Commercial Document Attestation | Embassy Legalization in India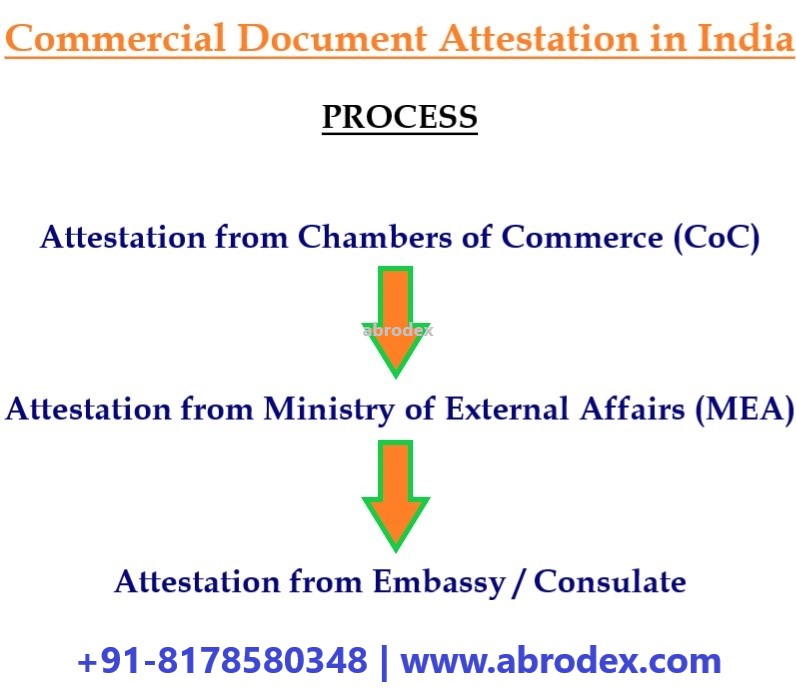 If you are looking for Export or Commercial Document Attestation and Legalization from Embassy in India, then you are in the right place. Here you will get all the information for Commercial Document Attestation and Embassy Legalization for various documents to export several countries across the world. Abrodex India Private Limited is a authorized agency to complete all the India issued documents and certificates Attestation, Apostille and Embassy Legalization for Commercial and personal documents in India.
All the India issued Commercial Document Attestation in India will be done through couple of steps. Firstly, the document Attestation will be done from Notary Public. Then, the Commercial Document Attestation from Chambers of Commerce will be completed. In the third step, the document will be Attested from Ministry of External Affairs (MEA), Government of India. Finally, the Commercial Document Legalization will be finalized by the Embassy or Consulate of the destination Country present in India.
The time frame to complete the above-mentioned Attestation and Legalization process of Commercial Document in India differ from Country to Country. However, the Attestation from Notary, Attestation from Chambers of Commerce and the Attestation from Ministry of External Affairs / MEA, Govt. of India may be completed within two -02- working days. Tentatively, the Embassy Legalization of Commercial Document will take around 2-7 working days.
The charges of Commercial Document Attestation and Legalization from Embassy present in India is different for various Embassy or Consulate. The Embassy fees for Attestation also differ from types of document. Some Embassy / Consulate also charges extra for urgency. If you require your Export or Commercial Document Attestation and Legalization from Embassy in India, please GET IN TOUCH.
The Commercial Document Attestation and Legalization from various Embassy / Consulate require some supporting documents along with the original documents. The supporting documents depends on the type of document to be Attested or Legalized and it also depends on the Embassy / Consulate where the final legalization will be done. A covering letter for Embassy on the company letter head is also required.
The mode of payment of the Embassy fees in India are different for different Embassy or Consulate. Some Embassy accept Cash, some Embassy require Demand Draft (DD) towards Embassy fees. And some Embassy require cash deposition (INR/USD) slip into their bank account. Even some Embassy require cash in USD towards consular charges. The Embassy fees are charged for a single document and multiple of one and sometimes the type of document as well as value of document and company also.
Attestation services are how someone can get suitable attestation for their commercial documents. Attestation agents at Abrodex Consultancy Services provides Attestation of the Commercial Invoice in India. Our all given Services are well-known and customer oriented. We do have good understanding of this field for about 10+ years and now we are swifter and quicker. We also offer pickup and deliver facility to suit your necessity.