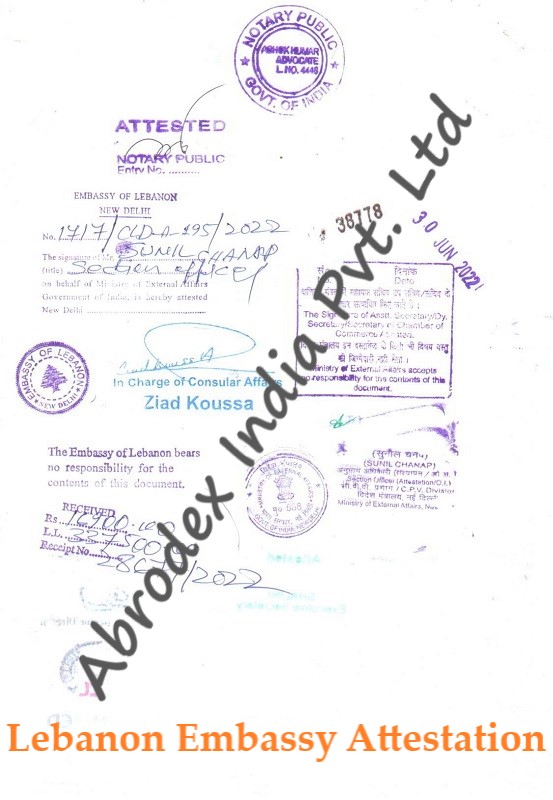 Certificate Attestation from Lebanon Embassy
Lebanon is a country with which India has very good trade and diplomatic relations. Every year many people travel between the two countries and many products are exported and imported. Whether it is public travel or exchange of goods, in both cases some relevant documents are required. And all these necessary documents have to be attested by the concerned government agencies of India. We are Abrodex Consultancy, we do the document or certificate attestation for Lebanon. And we also complete authentication, legalization etc. of all the documents which are required to travel or to export goods.
Whether traveling or exchanging goods, it requires a variety of documents, depending on the reason for travelling or type of visa or what kind of goods are being exported to Lebanon. When an Indian is applying a visa to Lebanon other than tour purpose then their educational as well as some personal document or Certificate Attestation is required. The personal as well as educational certificate attestation for Lebanon will be done after the attestation of HRD/GAD of the respective state and the Attestation of Ministry of External Affairs (MEA), Govt. of India. There are some alternate processes of Attestation is also in practice in India.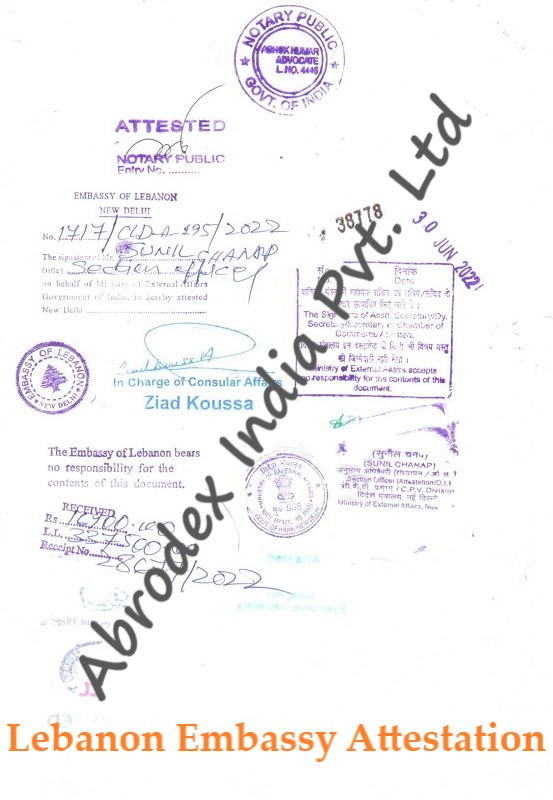 At the point when any Indian Company or Organization wishes to build up any business connection with Lebanon based association in their country by the methods for sending out, starting a business branch or even to delegate an establishment there, at that point some Commercial Document or organization related Certificates need Attestation or Legalization from Lebanon Embassy present in India. To begin business with any Lebanon based organization or association, legitimate documentation is vital for instalment.
In India, the Commercial Document Attestation from Lebanon Embassy is definitely not a solitary advance interaction. Any sort of Commercial Document Attestation from Lebanon Embassy in India will be done after the Attestation of Chamber of Commerce and the Attestation from Ministry of External Affairs (MEA), Government of India from anyplace in Delhi, Mumbai, Chennai, Kolkata, Hyderabad, Bengaluru, Chandigarh, Guwahati Centres.
Validation administrations are the way somebody can get reasonable verification for their records. We at Abrodex Consultancy Services give individual and Commercial Document Attestation and Legalization from Lebanon Embassy in India. Our all-given Services are notable and client situated. We do have great comprehension of this field for about 10+ years and now we are swifter and speedier. We additionally offer pickup and convey office to suit your need.
We do following Commercial Document Legalization for Lebanon in India