Certificate Attestation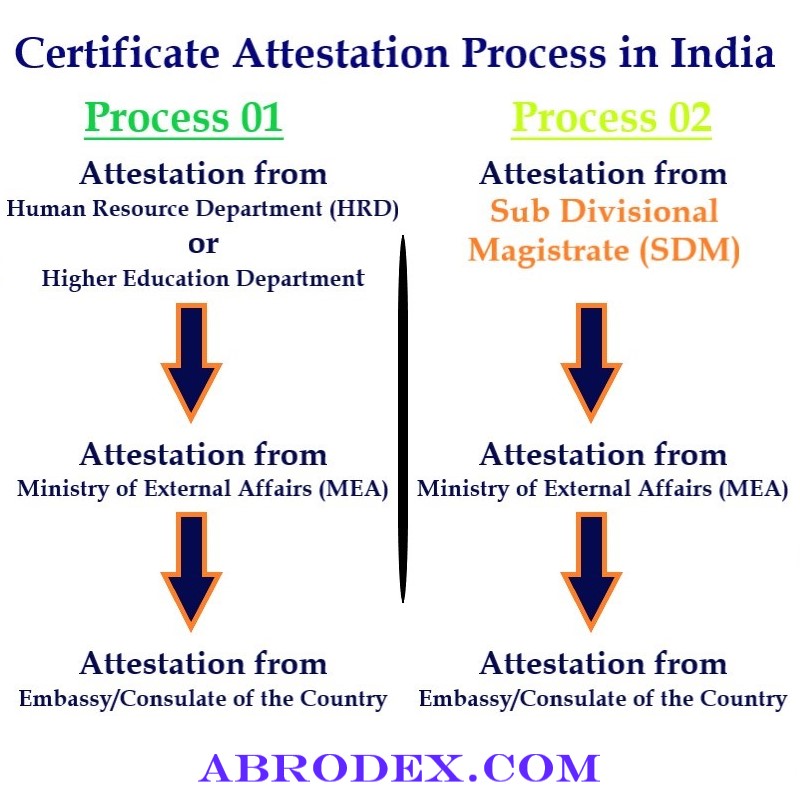 Abrodex Consultancy Services (a division of Abrodex India Pvt. Ltd) is an authorized company to complete Certificate Attestation, Authentication, Apostille, Embassy Legalization, Translation and Visa Stamping process in India. We will provide you the latest information and guidelines on the Certificate Attestation procedures involved in Attestation of documents from HRD, GAD, RAC and Ministry of External Affairs (MEA), New Delhi.
We wish all prospective applicants to go through the guidelines for Certificate Attestation, require supporting documents to attest from MEA and the cost or charges for Certificate Attestation Services prior to preparing the application for submission with Embassy. Any incorrect certification or misrepresentation of facts and information in support of application, will have a direct bearing on the decision with regard to the application by the MEA, Govt. of India.
Certificate Attestation in India
Before going the detail about Certificate Attestation in India, we have to know the types of documents in the view point of visa application. There are three basic types of documents and these are Educational Documents like Schooling Certificate, Secondary Certificate, Higher Secondary Certificate, College Certificate, Degree, Certificate, Diploma Certificate, Provisional Certificate, Transcript, Mark Sheet etc.
The second type of documents are non-educational or Personal Documents like Birth Certificate, Marriage Certificate, Police Clearance Certificate (PCC), Death Certificate, Divorce Decree, Unmarried Affidavit, Experience Certificate, Transfer Certificate, Bonafied Certificate etc.
The third type of documents are categorized as Commercial Documents. These documents require to Export from India or to expand business in foreign countries. The Commercial documents which are require for Export are normally Certificate of Origin, Commercial Invoice, Packing List, Bill of Lading, Good Manufacturing (GMP) Certificate, Free Sale Certificate (FSC) etc. and the Company Documents are Certificate of Incorporation, Memorandum and Articles (MoA), Board Resolution, Power of Attorney (PoA) etc.
The complete Certificate Attestation depends on some basic facts like types of documents, place of issue, country where to be submitted etc. However, some basic steps of Certificate Attestation in India consist of State Level Attestation like the attestation from Human Resource Department (HRD), Higher Education Department (HED), General Attestation Department (RAC), General Administrative Department (GAD), Home Department, Sub Divisional Magistrate (SDM) etc. Ministry of External Affairs (MEA) and the Embassy or Consulate of the destination Country.
State Level Attestation
When abroad documentation is concerned, there is a prior requirement of State level attestation before MEA attestation. The State Level Attestation depends on the type of document and the state of its issue. For example, in case of educational documents then the attestation from State Education Department is required. In case of personal documents then the Home Department or General Administration Department of the concerned state should attest the document prior the attestation by MEA.
We at Abrodex Consultancy Services completes State Level Attestation for Educational and personal documents from various states in India. Timely completion of the require Attestation with bare minimum supporting documents and charges are key responsibilities.
MEA Attestation or Apostille
Ministry of External Affairs (MEA), Government of India provides two types of Certification. One is Normal Attestation and another one is Apostille Attestation. The process of Certificate Attestation is done only after the attestation by the relevant state level attestation departments. The Certificate Attestation from MEA may be completed from New Delhi, Mumbai, Chennai, Kolkata, Hyderabad, Bangalore, Chandigarh, Guwahati Center in India.
Embassy Attestation or Legalization
The Certificate Attestation from Embassy is treated as final step of attestation for visa purposes. The Certificate Attestation will be done by the Embassy or Consulate of the destination country present in India after the Attestation from Ministry of External Affairs (MEA).
Abrodex Consultancy Services is a reputed organization with a team of trained experienced professionals who are capable to complete all the necessary procurement to complete Certificate Attestation for visa application and processing. Contact us and complete your Certificate Attestation with a hassle-free manner.
Abrodex Consultancy Services is a professional and long experienced Certificate Apostille Agency located in New Delhi and Kolkata in India. We are committed to deliver our best services as per the expectation level of our valued customers. Contact us and get your Certificate Apostille done with a hassle free, pocket friendly and timely manner.
We provide Certificate Attestation Services for Following Countries